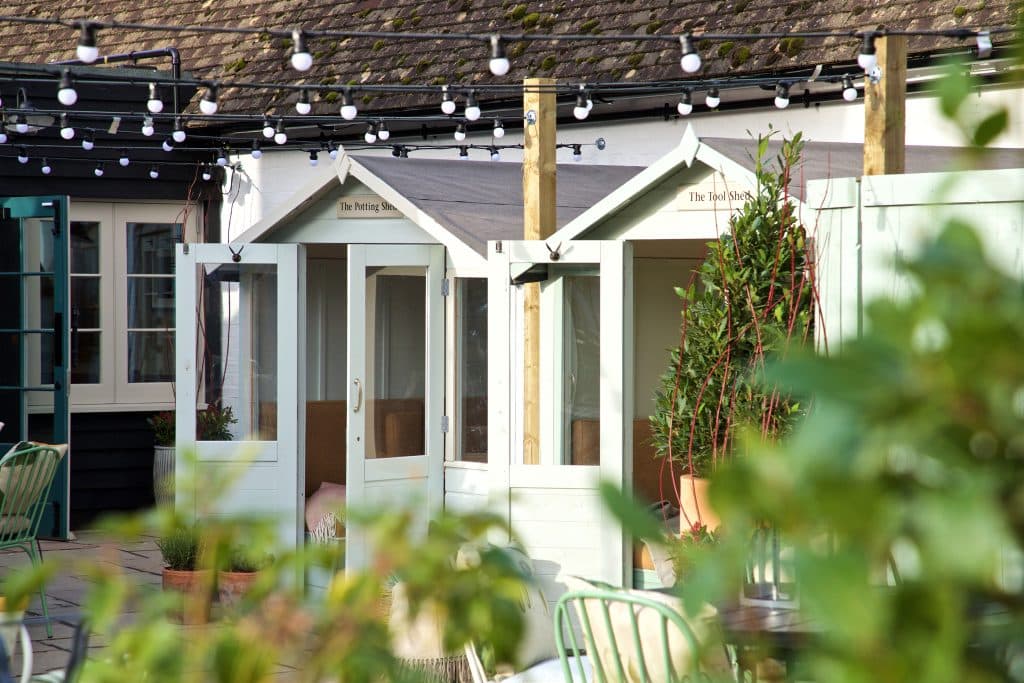 Guest post – Dee Campling explains more about our amazing refurbishment.
Local interior design hero – Dee Campling worked with our award winning Head of Design Inge Watrobski to bring life and colour back to our iconic pub. She wrote a blog about her involvement and specific vision for our beautiful outside space. Read on to find out more about this brilliant and hugely inspirational collaboration.
'Whatever you might think about social media, especially Instagram, you cannot fault it as a very effective way of connecting you with people you always should have known, but probably would have never met otherwise. In the four years that I've been posting regularly on Instagram, I have met and collaborated with many fellow interior obsessives – so many more than I would have done if I'd come across them the old fashioned way. There's no doubt that engaging authentically on social media gets you talking to the right people, your 'tribe', at lightning speed.
One of the people that I connected with a couple of years ago was Inge Watrobski. We chatted about our shared obsession for design and styling (and dogs!) for quite a while before I knew that she was Head of Design for Raymond Blanc's Brasserie Blanc and White Brasserie companies. When, a few months after that, she mentioned that White Brasserie were planning on taking over The Kings Arms, my local pub in Prestbury, talk of a design collaboration was a natural step.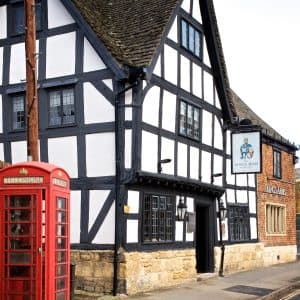 Dating from the 14th century, The Kings Arms was once a much loved pub but it had declined in recent years and had been entirely closed for a year. As a local person, it's been a shame to see this landmark standing sad and empty and I was delighted to be involved with it's rejuvenation.
Inge asked me to take the layout plans for the patio and come up with something different from the norm. The patio area was a large, already photogenic, space at the front of the pub and it was crying out to be turned into an appealing outside dining and drinking space.
Inge had already designed an outside space at The Oaks in Highcliffe, Dorset that included beach hut dining pods in the design.
We took this idea and decided to convert it into one that would work away from the beach and in a countryside setting such as Prestbury. Prestbury is in the heart of the beautiful Cotswolds, famous for it's rolling hills, beautiful stone built villages, historical towns and stately homes and gardens, so a garden theme was obvious. The same sheds that were styled as beach huts at The Oaks would be styled as garden shed dining pods at the Kings Arms – complete with heating and lighting.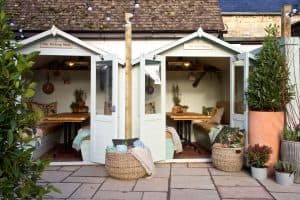 I chose Little Greene's Aquamarine colour palette for the sheds and the rest of the outdoor space as it is a colour that Little Greene developed in collaboration with The National Trust. It's very sympathetic to the colours of the Cotswolds – the golden stone and the flora and fauna.
We used National Trust gardens, such as nearby Hidcote, as the main source of inspiration for the patio planting. We chose Hidcote lavender, white roses, bay and dogwood as the cornerstone of the English Country Garden planting scheme. An evergreen jasmine clambers over the pergola and beautiful purple wisteria will join it in May alongside the spring and summer bulbs that are already planted ready. We've used huge old terracotta planters, reclaimed zinc containers and scaffold board planters which also add to the English Country Garden feel.
Raymond Blanc himself is, of course, famously french so we added a few elegant and quirky french twists into the garden design such as chandeliers hanging from the pergola and beautiful old mirrors hung on the outside walls.